A useful purpose for this blog -- now seven years old, and only just hanging on to life by its fingernails -- would be to act as a repository for Ian Jack's weekly Guardian column.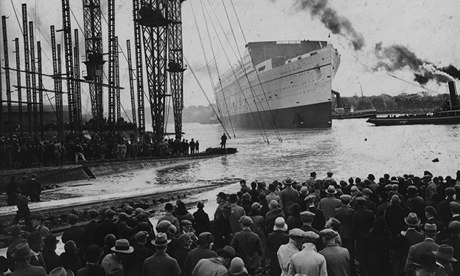 The Canadian Pacific liner Empress of Britain at John Brown's shipyard in the Clyde after her launch in 1930. Photograph: J Gaiger/Getty Images
Jack's column this week
-- about Britain's failure to provide ferries and oil rig support vessels for itself -- was, even by the man's high standards, unusually absorbing and informative...
"...consider a few facts. Germany's coastline measures 2,389km along the North Sea and the Baltic. Poland's is just 500km, or double that if you add two lagoons. The coast of mainland Scotland, on the other hand, runs to 9,911km, or 16,490km if the islands are included.
As well as this complex and ship-dependent geography stretching from Arran in the south to the furthest Shetland in the north, there are hundreds of oil platforms in the North Sea to serve and supply from ports such as Aberdeen. These were surely ideal conditions to sustain at least a kernel of what was once the world's most celebrated shipbuilding industry. General cargo ships and Atlantic liners no longer exist; bulk carriers and tankers are the monopoly of China, Japan and Korea; cruise ships have become the specialism of Finland, Italy and Germany; black-funneled freighters no longer sail into Glasgow and Tilbury with imperial tea.
But Britain still needs the humble stuff of ferries, coasters, tugs and oil-rig support vessels. Over the past 20 years we have built very few of them, and in some categories none. Warships have become the last ships that Britain really does. For a country that easily within living memory owned the world's largest merchant fleet, this looks like a savage form of self-harm."
He also linked to a fascinating Oscar-winning documentary, made in 1961 and called
Seawards the Great Ships
, about the industry on the Clyde.
The notably melodramatic opening is of its time, certainly, but after about 7 minutes it settles into a perfectly shot, scripted and directed lesson. There is some fine writing:
"...measuring, marking, centre-punching -- you might call this a kind of superhuman tailoring."
"...flanging machines exert forces on a plate which are at once brutal and loving .. and uncompromising."
Also look out for the wonderful continuous shot (just after 16m30s) which tracks up the scaffold at the side of the ship, up over its edge then on still further, high up above the deck (the cinematographer's shadow is visible at the beginning of the shot, cast onto the side of the ship).
Jack's piece ends elegiacally...
And so the only two decent-sized shipyards left in Britain build warships. How cheering it would be if other enterprises learned, or re-learned, to build peaceful craft that could rebalance the economy. Pollyannaish, I said this a year or two ago to a marine engineer from Port Glasgow. "But where would you find the men?" he replied. "You would need to look in the cemetery."
...to which one may respond: well, where did the men come from the first time round?